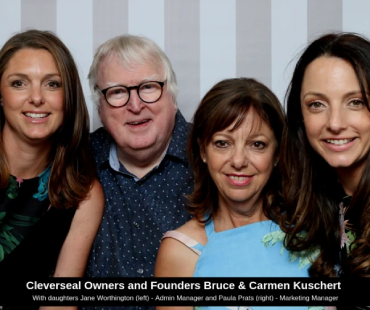 So years ago my parents Bruce and Carmen Kuschert started up this garage door sealing business. Dad has been in the garage door game for 47+ years now and in the mid-noughties he was working as the garage door rep for a building supplies company in Newcastle, NSW when he saw a gap (excuse the pun!) in the market for garage door seals. Mainly at first, to rectify the problem of uneven concrete on the garage floor causing big gaps at the bottom once the doors were installed.
He has a bit of an engineer's brain – runs in the family, great-grandad was an engineer in Scotland, so he set about coming up with product designs for seals using aluminium that could be fitted to the door - retro fit to solve a myriad of problems with gaps.
Not one to do things by halves, he designed an entire suite of aluminium die seals to solve up to 95% of problems with a garage door gap, ever encountered by anyone…ever!
They began the product line with arguably the most used garage door in Australian homes – the sectional garage door. So, the top and side seals were made and Mum and Dad continued with their day jobs, while also caring for our Grandfather - Poppy who lived with them, he was in his 90's at that stage. They turned the spare room of their 3-bedroom, little fibro house near the shores of Lake Macquarie into an office-come-storage room and the beginnings of this family business began in earnest.
A shed area downstairs became the pack, wrap & distribution hub of the operation and in their downtime both Bruce and Carmen began to market the business by cold-calls, telephone calls and lots and lots of sample sending!
The first order came in. You never forget your first client in business. This is the person that says 'yes', after ringing maybe 20, 30 or 50 people who didn't want to know about your new product or didn't have time to talk to you, they say "Yes. I'll listen. I'm interested, tell me a bit more". And you do. Your heart races a bit, but you pitch it to them. You send off samples, you follow up with them and then maybe a week, 2 weeks, a month, you hear from them and it's an order! Your first order! So exciting! You want to do everything right. You need to organise your courier or maybe you drop it off by hand. It takes you a couple of go's to get the packaging right, you have to figure out the label printer. But you get it all done and deliver it to the customer and then you wait.
You have faith in your product and you can't wait to touch base to see how the install went and what they thought of it.
There was no WIX or Weebly or Shopify then. Websites were a serious investment and not always available to start up businesses in the early stages. There was no Cleverseal website at first. Marketing collateral design was made up by family and then emailed to potential clients. Brochures were made up and physical mail drops were done. Local newspaper ads were run and later on, a small local TV and radio ad campaign. Spending money on marketing back then was even more like the chicken and the egg than today. Shall we put it all on a mail drop or all on a radio ad? How much of our savings can we throw at this?
Two years on from seeing that gap in the market, to having those dies made up which turned into proper product and the beginning of a client base, Bruce and Carmen went for it. They decided to pack in the day jobs and give Cleverseal their all full time.
Carmen first, followed shortly afterwards by Bruce, resigned from their long-service full-time jobs and work full time in the business – still from home. I just have to repeat that because to this day I still feel so proud – they gave up their LONG SERVICE FULL TIME JOBS! Secure pay each and every month and focussed on Cleverseal FULL TIME!
14 years on we are still astounded how a couple in their 50's with a mortgage, a house in desperate need of renovation, caring for an elderly parent and helping out their kids and grandkids where they were able, would take that leap of faith – that risk perhaps? and just go for it and launch their business. How courageous they are!
Today we are still a family owned and operated business. Bruce and Carmen still work in the business – although, by all rights should be retired! And Bruce is STILL coming up with solutions to garage door gaps!
If you would like to see how Cleverseal can help you seal gaps in your garage door, industrial door or shed, then check us out on our website or socials below.
You could give us a call and even speak to Bruce in the office! on 1300 887 438 – but be warned, he likes a yarn!
Our original and still the best top and side seals for Sectional Doors can be seen here:
https://cleverseal.com/products/by-seal-type/top-and-side-seals/
Or look for other great problem solving Cleverseal products with our Cobra bottom rail replacement or Door Dam our water threshold seal
https://cleverseal.com/products/by-seal-type/bottom-of-door-seals-cobra/
https://cleverseal.com/products/by-seal-type/door-dam-floor-seal/
Seal the Difference with Cleverseal