They can be BIG, have 8 legs and hairy bodies SPIDERS! Do you want them entering into your garage??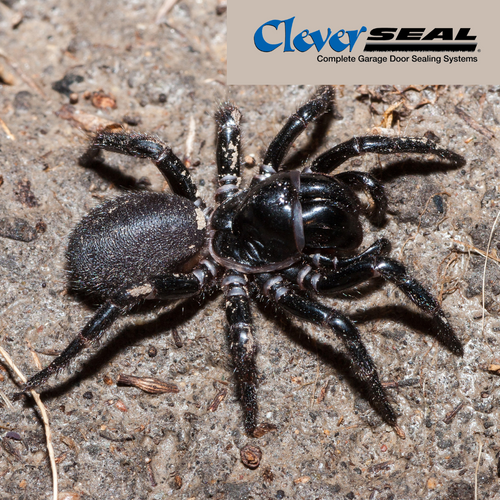 They can be BIG, have 8 legs and hairy bodies, they move fast and can kill you!! SPIDERS! Do you want them entering into your garage?? If not install a Cleverseal Sealing System onto your garage door today!
With Funnel Web spider numbers set to soar this summer and the thought of coming across a Funnel Web or other creepy crawlies in your garage gives you the heebie jeebies then we can help eliminate one area of your home prone to undesirables with a complete garage door sealing system!
In Australia Funnel Web spiders are primarily found on the nation's east coast in dense shrubbery or under rocks and logs - but they are also known to venture off into backyard gardens, garages and even unsuspecting people's shoes. Funnel webs love to hide under old pieces of tin and scrap wood, things that can be housed in the Aussie garage.
If you're struggling with an annoying door seal gap or two, Cleverseal garage door seals will close the gaps at the sides, top and bottom of your Sectional, Roller or Tilt garage door to keep out pests, rodents, rain, wind, drafts, and dust. They also resist coastal corrosion from salt spray. Cleverseal garage door brush seal kits are the quick and affordable solution to close gaps.
While having a bonus of keeping out potentially venomous creatures your Cleverseal Garage Door Seals also help out your back pocket with ENERGY SAVINGS. Keeping warm air in during winter and cool air in during summer, especially noticeable for garages with internal access. You'll see the difference on your power bills. Cleverseal heavy-duty garage door draft stopper seals will close the gaps at the sides and top of your garage door more effectively than rubber seal alternatives.
Only a few standard tools are needed to install the door seal strip to the interior sides and top. This is the complete DIY sealing kit package for a quick install. If you're handy around the home and like DIY projects, just follow the detailed instructions that come with this garage door seal kit and you'll have your door sealed against unwanted visitors of the creepy kind in no time!
LONG-LASTING AND ROBUST This is the best long-term solution to quickly close gaps to protect the inside of your garage. Cleverseal seals are made of heavy-duty aluminium carriers and resilient bristle brushes. This garage brush door seal set will last for years. All Cleverseal products come with a 5-year warranty.
Don't run the risk of being bitten by a spider or snake hiding in your garage this summer, see the full range of Cleverseal Garage Door Seals here https://cleverseal.com and get peace of mind of a fully sealed garage today!