Australia's #1 Garage Door Sealing Company
Flat Rate Shipping Australia Wide
Door Dam G3 - Floor Threshold Seal Black
Prevents water pooling inside your garage
---
---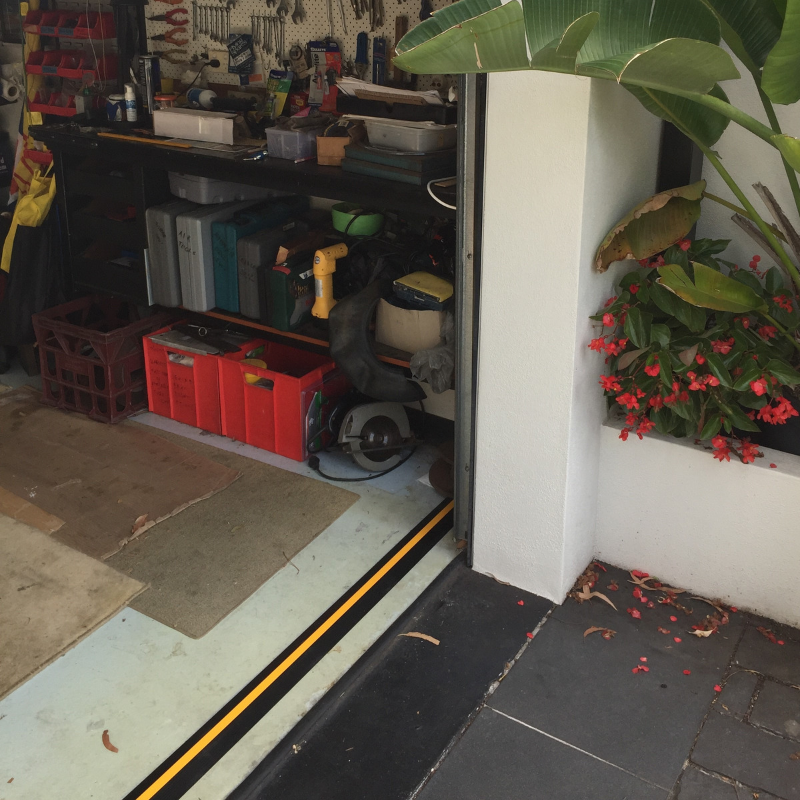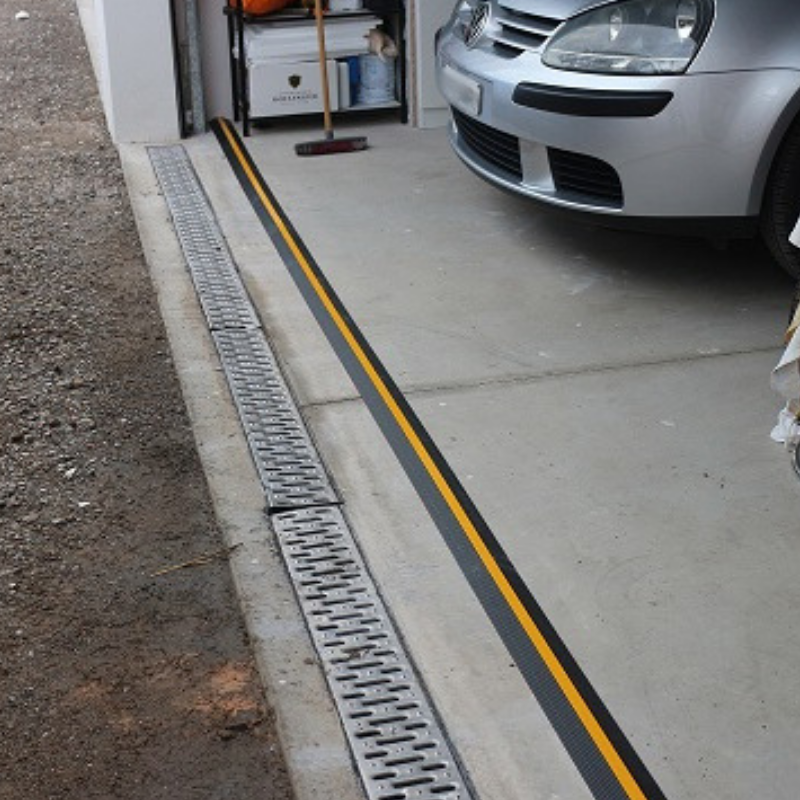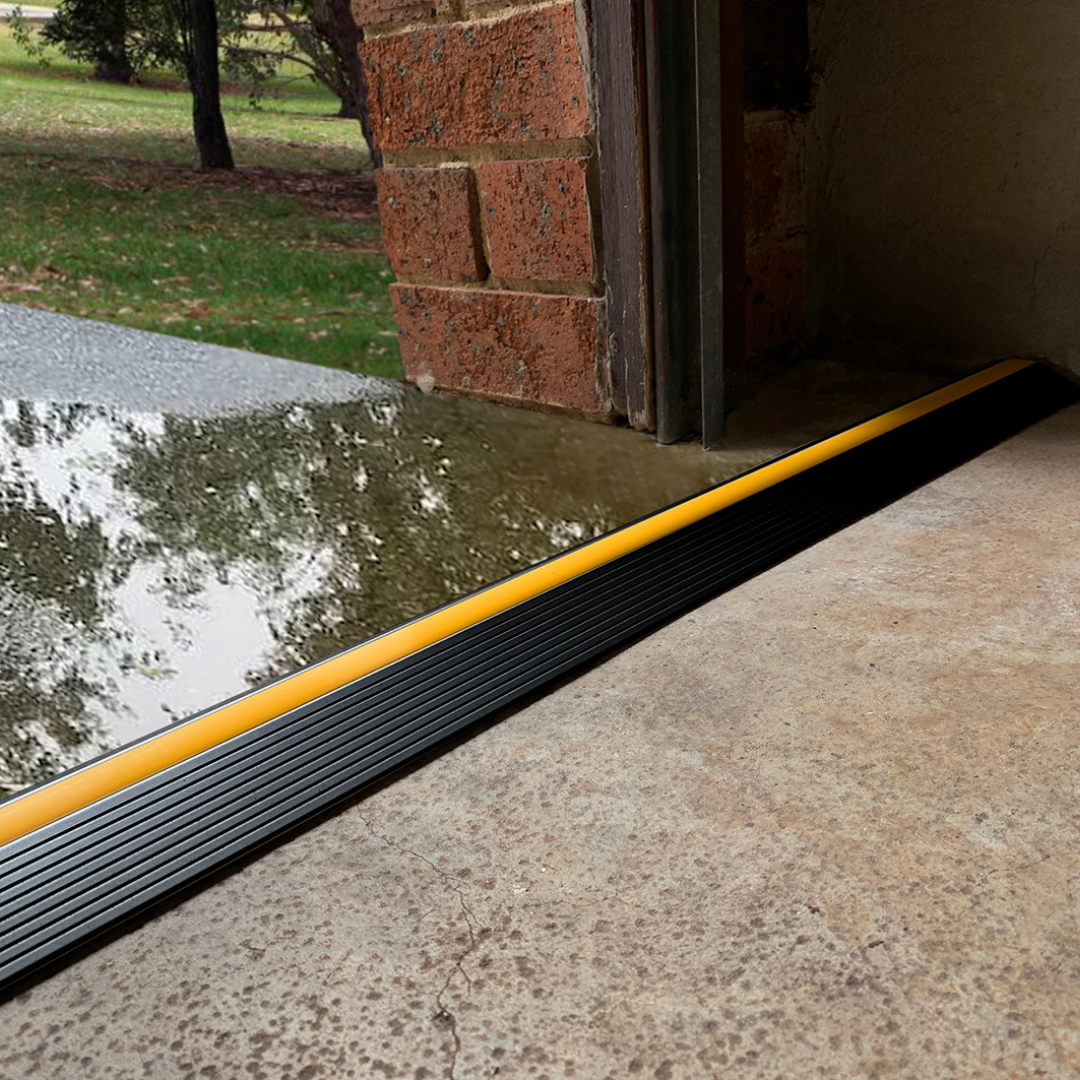 Cleverseal Door Dam G3 works by diverting the path of rainwater. The ground-breaking design of Cleverseal Door Dam G3 is made of hard-wearing aluminium, with the additional protection of two continuous bottom push-in PVC cup seals that compress against the garage floor, to provide an immediate tight seal to stop water logging.
Door Dam G3 is now even stronger for commercial use, being able to withstand the weight of a 25-tonne vehicle.

Benefits of Cleverseal Door Dam Water Threshold Seal:
Easy to install behind the line of the garage door from wall to wall to create a mini dam inside the line of your garage.
Prevents water pooling inside your garage by diverting the rainwater and keeping it outside, keeping water away from timber and gyprock walls.
Protects anything you store on your garage floor - keeping water out means a drier garage. 

Designed to to withstand extreme temperatures and won't crack or deteriorate in extreme heat. 
Available in black or silver 

Also available with u shaped corner returns. 
Product Specifications
| | |
| --- | --- |
| Model Name | Door Dam G3 - Floor Threshold Seal in Black 3100mm |
| SKU | CDDDG331B-WEB |
| Maximum Installed Product Dimensions | 88mm wide x 19mm height |
| Weight | 6kg |
| Packaging | 3200mm tube |
| Aluminium section | Anodised |
| Cup seals | PVC |
| Yellow insert | New rubber safety cover insert |
| Installation Required | Yes, behind garage door tracks - see installation manual |
| Warranty | 5 years |
What's Included
| | |
| --- | --- |
| 1 | 3100mm Aluminum section |
| 2 | bottom cup seals |
| 1 | yellow rubber insert |
| 10 | fixings |
Product Specifications
| | |
| --- | --- |
| Model Name | Door Dam G3 - Floor Threshold Seal in Black 4500mm |
| SKU | CDDDG345B-WEB |
| Maximum Installed Product Dimensions | 88mm wide x 19mm height |
| Weight | TBA |
| Packaging | 2350mm PVC tube |
| Aluminium section | Anodised |
| Cup seals | PVC |
| Yellow insert | New rubber safety cover insert |
| Installation Required | Yes, behind garage door tracks - see installation manual |
| Warranty | 5 years |
What's Included
| | |
| --- | --- |
| 2 | 2250mm Aluminum sections |
| 1 | 9000mm of bottom cup seals – daisy chained |
| 1 | 4500mm yellow rubber safety cover |
| 20 | fixings |
| 2 | straight joiners |
Product Specifications
| | |
| --- | --- |
| Model Name | Door Dam G3 - Floor Threshold Seal in Black 6200mm |
| SKU | CDDDG362B-WEB |
| Maximum Installed Product Dimensions | 88mm wide x 19mm height |
| Weight | TBA |
| Packaging | 3200mm tube |
| Aluminium section | Anodised |
| Cup seals | PVC |
| Yellow insert | New rubber safety cover insert |
| Installation Required | Yes, behind garage door tracks - see installation manual |
| Warranty | 5 years |
What's Included
| | |
| --- | --- |
| 2 | 3100mm Aluminum sections |
| 1 | 12.4m of bottom cup seals – daisy chained |
| 1 | 6200mm yellow rubber inserts |
| 20 | fixings |
| 2 | straight joiners |
Product Specifications
| | |
| --- | --- |
| Model Name | Door Dam G3 - Floor Threshold Seal in Black 5300mm |
| SKU | CDDDG353B-WEB |
| Maximum Installed Product Dimensions | 88mm wide x 19mm height |
| Weight | 7kg |
| Packaging | 3200mm PVC tube |
| Aluminium section | Anodised |
| Cup seals | PVC |
| Yellow insert | New rubber safety cover insert |
| Installation Required | Yes, behind garage door tracks - see installation manual |
| Warranty | 5 years |
What's Included
| | |
| --- | --- |
| 1 | 3100mm aluminum sections |
| 1 | 2250mm aluminum section |
| | Bottom cup seals |
| | Yellow rubber insert |
| | fixings |
| | straight joiners |
Product Specifications
| | |
| --- | --- |
| Model Name | Door Dam G3 - Floor Threshold Seal in Black 6700mm |
| SKU | CDDDG367B-WEB |
| Maximum Installed Product Dimensions | 88mm wide x 19mm height |
| Weight | 8kg |
| Packaging | 3250mm PVC tube |
| Aluminium section | Anodised |
| Cup seals | PVC |
| Yellow insert | New rubber safety cover insert |
| Installation Required | Yes, behind garage door tracks - see installation manual |
| Warranty | 5 years |
What's Included
| | |
| --- | --- |
| 3 | 2250mm aluminum sections |
| | Bottom cup seals |
| | Yellow rubber insert |
| | fixings |
| | straight joiners |